BLYSS Yoga LLC Blueberry Lake Yoga Sanctuary and Studio has opened a new Yoga Studio/ Art loft in Waitsfield, Vermont on the corner of Bridge Street and Main Street above 40 BB . It is a warm and cozy space at the Historic Waitsfield House with many windows overlooking downtown Bridge Street and Main Street. The decor is soft yet colorful with flickering candles and soft lighting. We are opening with a diverse group of Yoga Instructors with outstanding credentials and certifications. Styles of Yoga to be offered include Vinyasa, Yin, Hatha, Ashtanga, Kundalini, Meditation, Mindfulness, Trauma & Recovery Yoga, Chair Yoga, Kids Yoga & more!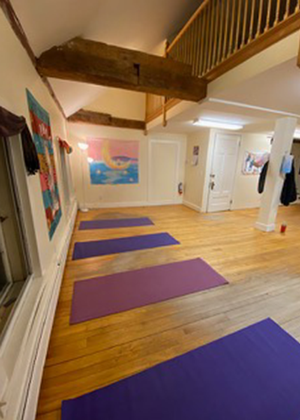 February 2023 Yoga & Events Schedule
Mon- Friday 11 am – Vinyasa- Isometric Flow by Eloise in Studio
Mon- Friday. 5pm- Yin Yoga slow ez stretches by Rita online
Saturday – 11 am Chair Yoga with Rita online
Sunday – 11 am Mindfulness Yoga Meditation
Blyss Organic Cacao will be served after every class. The Art loft is a fun place to browse for Yoga related jewelry, Local Original Art, our own Glass bottles of Blyss Cacao, Apothocary CBD & essential oils, salves and other beautiful gifts can be purchased after class. All of our Art loft gifts can be purchased online as well at www.BlyssYogaVermont.com. Our new website was created by Cassidy Sargent of Dama Astuta Designs she did a professional and extraordinary job on every part of it.
Please take a look at our schedule and if your not ready for in person classes which are offered at 11 am Mon-Fri all of our Yoga classes are on Zoom so you can attend from your home, your vacation or even take a break at work and tune in! Connect to your BLYSS it is what BLYSS Yoga is all about.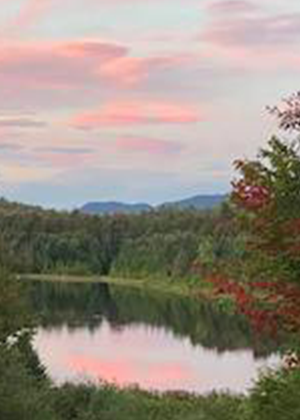 BLYSS Yoga Sanctuary was founded in September 2022 on Blueberry Lake in Warren, Vermont with the intentions of combining Yoga and Nature to connect to your BlYSS. The season came fast and we were not able to start our outdoor Yoga classes on our lawn overlooking Blueberry Lake until May of 2023. It is a beautiful Sanctuary where wildlife is abound and the views are that of an Alaskan Wilderness with often not a soul in sight. Views of the Glorious Green Mountains often reflecting into the Lake like crystal Trees mirroring each other. Owners Rita and Charlie Brown have lived here over 20 years and hosted many happy and memorable Events. These include Family Weddings, Anniversaries, Birthdays, Memorials, Concerts on the Lake, Yoga and Music Retreats. We are excited to offer BLYSS Sanctuary to The Community and Visitors May-October for Events, Retreats & daily Yoga classes on The Lawn.
Summer of 2023 our BLYSS Yoga Sanctuary will host two 10-day YTT 200 Yoga Teacher Training Retreats. We are joining forces with SAHA Soul Ascension Healing Arts where owner Rita Maranda Brown got her Certification on line . The Teachers will come from around the World, Africa, Amsterdam, Hawaii, Vancouver to train the next group of Yoga Instructors. BLYSS Sanctuary prepares Gourmet Vegan/ Vegetarian Cuisine for our participants that is Artfully presented and locally grown including many things from our own gardens. Our canoes, kayaks, ping pong/ pool table, hiking trails and the Lake for swimming are some of the activities right here on Blueberry Lake in Spring, Summer and Fall!
The new Yoga studio will be open year round 7 days a week.
Weekends will have upcoming Community Events with Live Art, Live Music, special Yoga classes and more.
Starting in February Monday-Friday Eloise Zeeman will host Vinyasa-Isometric Flow at 11 am in person at the Studio and on Zoom. Eloise has been teaching for 30 years. She previously owned her own studio in Palm Beach, FL. She is a local who went to Harwood and is raising her family in Vermont. Her Yoga teaching skills are enormous. She is in tune with every part of the anatomy and works every muscle in a one hour class, to see Eloise teaching Yoga is Art and Inspiration. Eloise studied under some very prestigious teachers in India!
Lauri Bradway will be teaching Zoom classes on Saturday & Sunday LIVE from the Studio. She has many certifications in Trauma Yoga, Recovery Yoga and Mindfulness Yoga she will host on Zoom A heal Yourself Yoga on Saturday at 11 am and Mindful Yoga Sunday at 11 am focusing on Meditation and Breath for healing. Rita will be hosting a gentle online Yin Yoga at 5 pm Monday – Friday on Zoom for anyone, anywhere to join in for stretching, relaxation and Blyss!
We look forward to growing with The Mad River Valley and expanding our in person classes and adding Instructors this Spring so stay tuned, connect to your BLYSS… we'll See You on the mat in 2023!
Namaste'